Want to change Chicago? Want to work for more justice, equity, beauty, and peace in this place? First, learn how we GOT this way.
Learn Chicago's past in order to change her future.

We can provide Zoom workshops on a wide range of civic topics!
Attendees and organizers from past sessions said:
We just did an intensive workshop on Chicago political history and the budget for the Chicago Avodah Social Justice Fellows. Attendees said "I learned more Chicago history and politics in two hours with Tom and Jonathan than I learned in months of living in this city." "I loved this workshop! I learned more about Chicago in one night than had learned in three years living here." "Fantastic!"
"In the age of Trump and neo-liberal attempts to privatize and monetize all levels of government, it's becoming more and more important for our communities to organize and become engaged. The CivicLab's Power Institute lays the groundwork for exactly that. They have designed a curriculum for individual empowerment by arming participants with the power of knowledge of local history, policy, community organizing and political campaigning. I would wholeheartedly recommend Civiclab's Power Institute for any aspiring or established organizer looking to bring real change and empowerment to their communities." Ruth Maciulis (Co-Director of the Pilsen Alliance when the CivicLab presented their cycle of "Civics 101" workshops at their site on 18th Street, November 2019)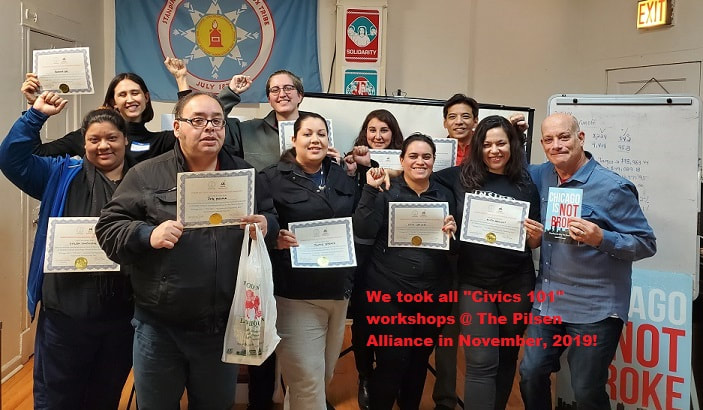 From Kyle Sneed, President of the Wicker Park Committee: "Tom did a great job! He clearly articulated how tax increment financing ("TIF") works, where districts are located in the 1st, 2nd, and 32nd wards, and issues with TIF. TIF isn't necessarily the most "exciting" topic but our nearly two-hour meeting flew by because of Tom's presentation and audience engagement. Feedback from our meeting was very positive and folks walked away feeling educated and empowered to talk to others about the issues associated with TIF."
"Thank you Thomas Tresser for the eye-opening experience regarding TIFs in the 11th Ward. Unbelievable and still in awe." – From an attendee of the 11th Ward TIF Forum.
"You are the definition of a true Servant Leader for the city of Chicago. You shed light on the complex issue of TIFs and continue to push for more transparency to inform taxpayers where their tax dollars are being underutilized for those in most need is simply remarkable. Citizens of Chicago are fortunate to have people like you. Best wishes!" – From the organizer of the 23rd Ward Forum.
"Passionate, experienced organizers share real world examples of effective organizing, philosophies, practices and opportunities to work in small groups on real, pressing issues." - Lisa Haufschild, 39th Ward Organizer
"Tom and Jonathan really came through! Their presentation on 'Chicago 101' made people mad about how Chicago works, and it made people curious, but most of all it got people engaged. This is exactly the kind of education every citizen needs in order to make meaningful change in our city. One of my favorite moments of the night was when one particularly engaged audience member literally threw her hands up and said, 'Why doesn't anybody teach us this stuff?' Well, Tom and Jonathan are teaching this stuff - and I will gladly welcome them back to continue to inform, engage, and empower our community." - Gabe Piemonte, Candidate 5th Ward Alderman
"Your 'Chicago 101' training was great last night!! It was the boost I needed. It reminded me of what I really care about and where I come from in terms of activism and my roots. In our activism we are working with a lot of people who have never engaged so conversation is tough because they aren't aware of the history, there is no context. We often get caught up in nonsense and focus is lost as we try to get the newly engaged to act. Being with seasoned pros was so nice. I gained some new perspective and knowledge as well as reaffirmation of my values and goals. It was energizing and gave me some clarity, just what I needed for the burnout I've been feeling. I'm really looking forward to the next two sessions!" - Meaghan McAteer, Co-founder Indivisible Brookfield
" I recently attended the Power Institute workshop on T.I.F. I was amazed how informative the class was. Tom spoke truth to power and I could see his passion for his work. I was inspired to get involved with civics (boots on the ground) LOL. I will be taking my first steps toward working with communities in our great city of Chicago! I highly recommend this workshop and others that are offered through the Power Institute." - P.H. - Hyde Park
"Amazing resource for Chicago residents. An opportunity to learn how those in power keep robbing the everyday people!" - Gaylon Alcaraz - Chicago Tribune endorsed candidate, Cook County Commissioner, 4th District, 2018
"Worth every penny! I have heard of these political operatives and cannot believe that I got to speak to them in such an intimate environment. I also loved the workshop because it was cathartic and was grounded in the reality that we still have a democracy. We still matter. We can beat the Machine - but we have to be ready for a fight. I can fight. I've fought my whole life. But I've been thinking about whether it's worth fighting And this training reminded that it was." - Priscilla Orta

"As a Lecturer of Political Science at Saint Xavier University, I am always looking for new ways to get students excited about politics and participation…Tom came up with "Civic Engagement 101" to challenge participants to think about civics as action involving knowledge, passion, and courage. The workshop got participants excited about the taking the next steps – towards action. I would encourage anyone interested in increasing civic engagement in their community to partner with Tom and the CivicLab." – Elizabeth Alejo, Lecturer, Political Science, St. Xavier University
​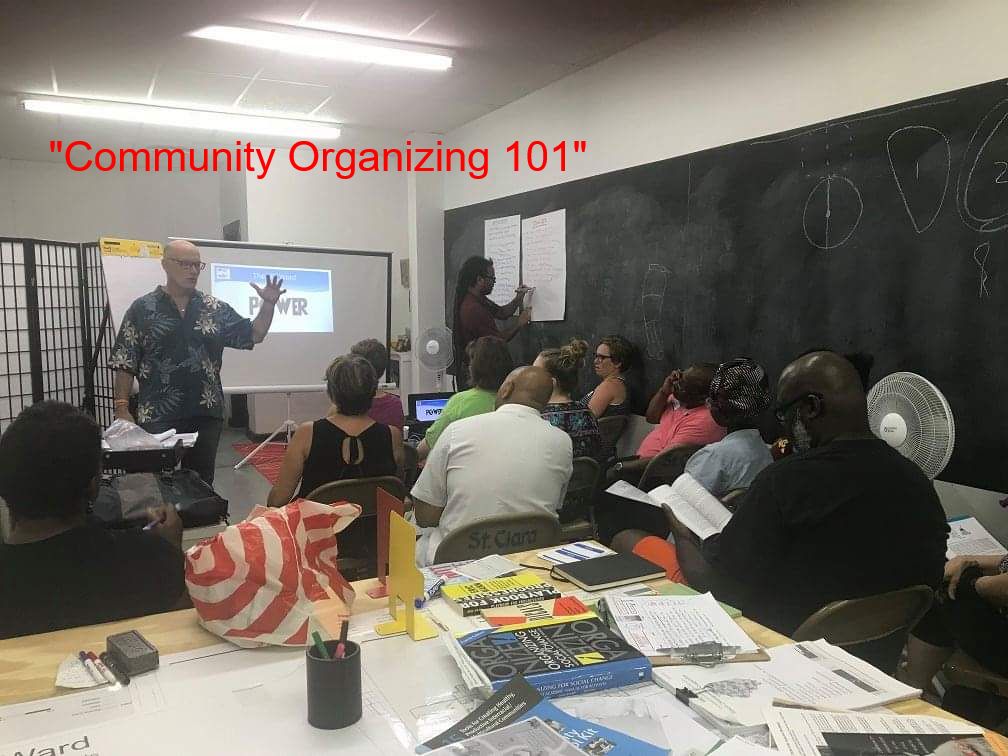 Jonathan and Tom conduct "Community Organizing 101" on the South Side from the Summer of 2018.